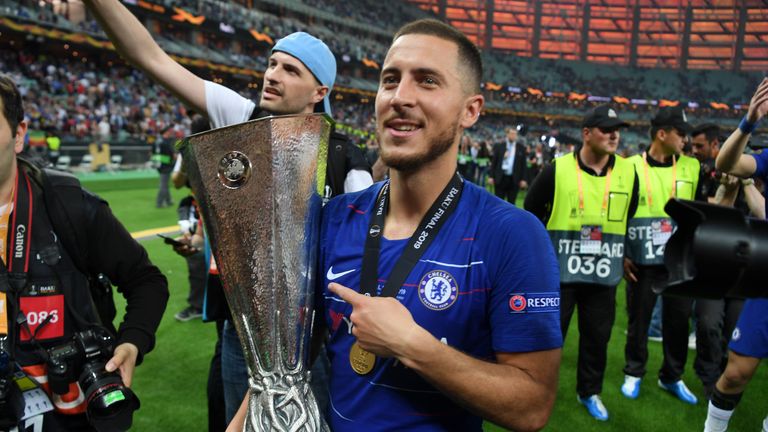 Eden Hazard has strongly hinted his two-goal performance in Chelsea's 4-1 Europa League win over Arsenal will be his final appearance for the club.
The Belgian is entering the final year of his contract at Chelsea, who value Hazard at £130m, but Real Madrid are confident of signing him for no more than £88m, Sky Sports News understands.
Hazard, who has been with Chelsea for seven seasons and won six major honours with the club, told BT Sport after the final: "I think for the fans, for the boys, for the manager, for the staff, this is a great trophy to win.
"I don't know yet [where my future lies]. I think it will be decided in a few days. My target today was to win the trophy that's it. That was the only thing in my mind.
"I took my decision already. I said that two weeks ago. Now it's depending on the club. Both clubs. I'm just waiting. We will see. We will know in a couple of days.
"I think it's a goodbye. But in football you never know. My dream was to play in the Premier League and I did this for seven years for one of the biggest clubs in the world. Maybe it's time for a new challenge."
"I knew Eden wanted to leave"
Maurizio Sarri praised Hazard's personality after the final and revealed he had been expecting Hazard to leave Chelsea for some time.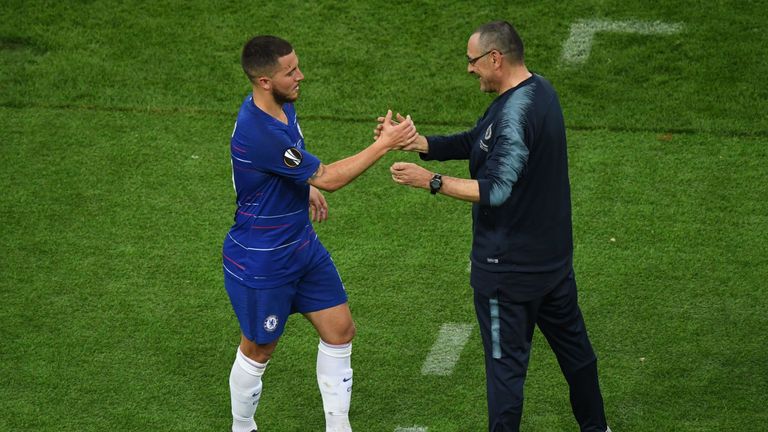 "As you know he's a wonderful player but you have to spend 2-3 months to understand him as a man," said Sarri. "When you're able to understand him as a man he's a wonderful man.
"I knew that Eden wanted to leave, of course, but as I say in every press conference I want to respect his decision. Now I have to speak to my club."
"Hazard deserves Real move"
Former Chelsea defender Frank Sinclair has told Sky Sports News Hazard's double against Arsenal was a fine way to finish his Blues career and he deserves a move to Real Madrid.
"Hazard waved goodbye to the crowd and hugged a few players as he was going off," said Sinclair. "Could that be the last time we see Hazard in a Chelsea shirt? I think we'll know the outcome of that very soon.
"To finish off with two goals is surely fitting for how he has performed for Chelsea over the last seven years.
"It's a big one. The decision is Hazard's and everyone at Chelsea will respect the decision as well. I think he has earned the right to go and play for one of the European giants after what he has done at Chelsea over the last seven years.
"For me, he has been the best player at Chelsea for the last seven years. I think he has got himself up there amongst Europe's best – he's in the same breath as your Ronaldos and Messis.
"It looks like he will go to Real Madrid and I think he deserves a move at this time in his career. Good luck to him."
culled from skysports
97 total views, 1 views today